Rental Property Manager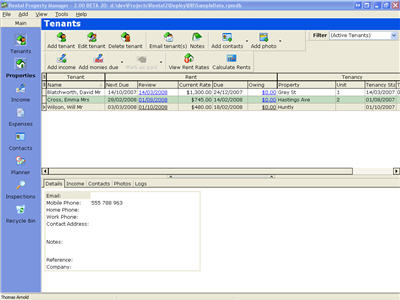 Rental Property Manager (RPM) is a one-stop database for managing your rental property information. RPM is designed by a property manager to meet your unique needs. It is for real estate professionals and private property investors alike.
Using RPM, you can save and manage data about your properties, tenants, and financial transactions. RPM includes advanced reporting functions that create spreadsheets with the rental information you need.
Is your property portfolio residential, commercial, rural, or varied? Do you have two or three properties, or two or three hundred? RPM can grow with your portfolio. It's a small investment to help you manage your larger ones.
Why do I need Rental Property Manager?
Save Time:
Many property managers use spreadsheets or hand written records to keep track of data. This is a slow and error-prone process. Entering data into Rental Property Manager takes only minutes. Optimized data entry screens and sensible defaults makes data entry easy and pre-defined reports makes getting it out again just as fast.
Save Money:
Rental Property Manager's customizable alerts mean that you will never miss a rent review or overdue payment again. Automatic rent calculation and payment tracking mean that you always know who owes what, down to the cent. A comprehensive list of property expenses means that you are prepared at tax time.
Never lose data again:
A central data location means that you have only one place to look for that crucial information. Income and expense records are at your fingertips. Contact details for long-gone tenants are easily found. Appliance model numbers and room dimensions are immediately available.
For a complete feature list, see here.